Please note that this documentation is for the most recent version of this extension. It may not be relevant for older versions. Related documentation can be found in the documentation directory of the extension.
How to use your own fonts in PDF
For using your own fonts in Fluid-FPDF, you need to convert the fonts into a special format.
The FPDF-Website supports a small Converting-Tool: http://www.fpdf.org/makefont/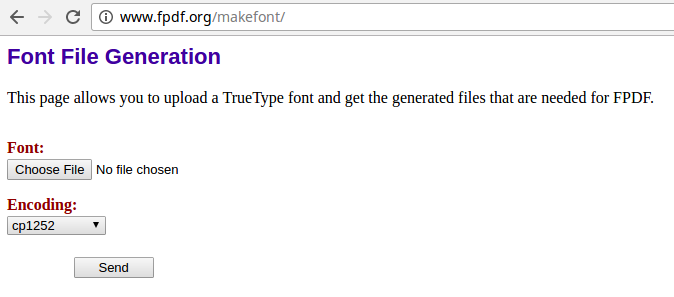 Just choose your TTF-File and select the required encoding (for example ISO-8859-15). The result are two files - one php-File and one z-File.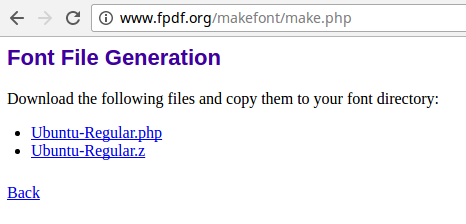 For example, you want to convert the Ubunut-Font which is available on Google-Webfonts. You need the regular and bold font. Downloaded you receive the following files:
Ubuntu-Regular.ttf
Ubuntu-Bold.ttf
Once converted, you have these files:
Ubuntu-Regular.php
Ubuntu-Regular.z
Ubuntu-Bold.php
Ubuntu-Bold.z
Follow the next steps, in order to use the font:
Upload these two file into your TYPO3-Installation
Define the new Fontpath in fpdf:pdf
Add fonts with the fpdf:addFont
Set the required font
Write your text
<fpdf:pdf fontPath="EXT:theme_bootstrap4/Resources/Private/Fonts">
    <!-- Add required Fonts -->
    <fpdf:addFont family="Ubuntu" style="N" filename="Ubuntu-Regular.php" />
    <fpdf:addFont family="Ubuntu" style="B" filename="Ubuntu-Bold.php" />
    <fpdf:addPage orientation="P" size="A4">
        <!-- Set font -->
        <fpdf:setFont family="Ubuntu" style="N" size="12" />
        <!-- Write your text -->
        <fpdf:multiCell width="100" height="5" text="Hello world" />
        <f:comment>
            // Your PDF content...
        </f:comment>
    </fpdf:addPage>
</fpdf:pdf>
Notice:

You need some support by converting your font? Get in contact with us: typo3(at)coding(dot)ms