TYPO3 CMS Integration & Extension Development
coding.ms GmbH
About us
coding.ms is a TYPO3 Content Management System web development agency based in Münster. For many years our TYPO3 developers have been applying their knowledge for the benefit of our customers and their projects in the B2B segment. Our range of services includes not only custom TYPO3 coding and TYPO3 extensions, but also comprehensive technical support for our customers. Our TYPO3 developers are also happy to take over the development of complete websites - exactly according to your requirements.
Contact us and we will be happy to advise you
Our Services
TYPO3 CMS Websites
TYPO3 CMS Communities and Shops
TYPO3 CMS Extensions
TYPO3 CMS Backend-Modules
TYPO3 CMS Trainings
TYPO3 CMS Updates
TYPO3 CMS Monitoring
TYPO3 CMS Performance-Optimization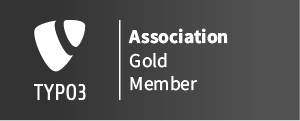 TYPO3 Theming und Distribution
Nie wieder Themes von Grund auf neu entwickeln! Diesen Wunsch haben viele TYPO3-Entwickler, die zwar die große Flexibilität von TYPO3 sehr schätzen, andererseits aber lange einen standardisierten Ansatz vermisst haben, um wiederverwendbare und austauschbare Designs für das Open Source-CMS entwickeln zu können. Die neue Themes-Extension verspricht diese Standardisierung - und jede Menge Zeitersparnis. Dieses Buch zeigt Ihnen, wie Sie Themes standardkompatibel erstellen und wiederverwenden können. Sie lernen die Themes-Extension genau kennen, erfahren, welche Strukturen und Formate für austauschbare Themes benötigt werden und wie Sie Ihr Theme kompatibel zu anderen Extensions wie z.B. News machen.
Simplicity is the result of maturity
Friedrich Schiller
coding
.

ms GmbH

Ludgeristrasse 110
48143 Münster
Germany