Installation of TYPO3 Car Showroom website package
The TYPO3 Car Showroom package is a flexible, high performance package allowing you to set up your own website in no time at all.
An easy-to-use installation program is provided for easy installation of TYPO3 and all the necessary extensions.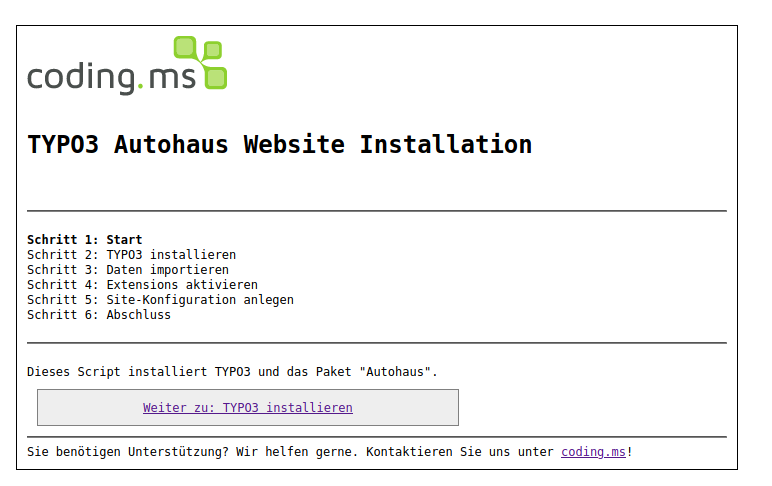 Preparation
You will need a web server with PHP and a database (MySQL / MariaDB) to install the package.
Make sure you have the following:
FTP or SSH access to upload the package
An empty MySQL or MariaDB database including login details
The package runs on TYPO3 9. Exact system requirements can be found under
https://docs.typo3.org/m/typo3/guide-installation/9.5/en-us/In-depth/SystemRequirements/Index.html
When you purchase the website package you will receive a ZIP file. Unzip this file on your computer. It contains two files:
* installer.php
* typo3-autohaus-assets.zip
Upload these 2 files to your server.
Perform installation
Run the installation script by entering your domain name followed by "installer.php" In your browser:
https://www.meine-domain.de/installer.php
The installation script will run through the different stages. It runs automatically, however, in step 2 you will be asked to switch into the TYPO3 installation script. You will be prompted to enter your database login details and to choose a user name and password. Carry out all the steps until the end (the message "100% Complete" will appear) so that TYPO3 is completely installed.
After that switch back to the main installation and continue.
Troubleshooting
If you run into problems, it may help to restart the installation. Make sure you first delete all files from your web space and completely empty the database. Then start again.